The Dirt Bike Guy: Honda's CRF450R Is Ideal For Tall Riders
Chaparral Motorsports
|
July 26, 2012
[caption id="attachment_14271" align="alignright" width="300"]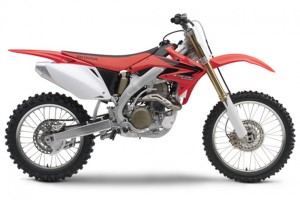 The 2007 Honda CRF450R is designed for tall riders to feel at ease on the track.[/caption]

Many dirt bikes are built for smaller, agile riders, leaving those of us with a larger stature struggling to keep up. But the 2007 Honda CRF450R is designed for tall riders to feel at ease on the track, whether they're average height and build or much, much taller. Shorter riders may want to look elsewhere, as this particular model wasn't designed with them in mind. The bike itself weighs a modest 229 pounds, distributed evenly between the front and rear wheels. The lightweight bike also packs a punch when it comes to engine power, and the combination helps this ride sail around the track with ease.

This motocross bike has a 449cc, single-cylinder, four-stroke engine with a 12.0:1 compression ratio, which means it's got all the power you need on the track, whether you're racing or just out for a fun ride. The CRF450R line did not change much between the 2006 model and this one, but a few minor adjustments really helped bring the bike to a new level of quality and performance. A larger 41mm carburetor featuring an accelerator pump and linkage not seen on the previous model, in addition to smaller exhaust valves really help the bike get every ounce of power possible from the engine. Honda also reduced the size of the muffler and moved it closer to the bike itself to help improve its center of gravity. This makes it easier to stay balanced atop the bike, another issue taller riders may encounter on other dirt bikes.

[caption id="attachment_14272" align="alignleft" width="200"]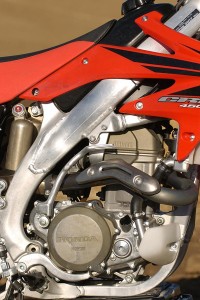 The 2007 Honda CRF450R's 449cc, single-cylinder, four-stroke engine has all the power you need on the track.[/caption]

Honda's CRF450 line has been counted among the better performance bikes in the industry since they were first released in 2001. In 2006, during the AMA Supercross season, the '07 CRF450R was the bike that led the pack in grabbing the holeshot. Riders atop these Hondas were able to jump out in front by the first turn of their races more than riders on top of any other bikes that year.

This bike is far and away from being a good choice for beginners, but seasoned motocross riders looking for a used bike to play with might want to check this bad boy out. Whether they like the dirt bike as is, or want to tinker with it and customize its dirt bike parts and accessories, the 2007 Honda CRF450R is a fun and powerful ride.