Motorcycle Maniac: New 2012 Star Raider SCL Is A One-Of-A-Kind Cruiser
Chaparral Motorsports
|
July 24, 2012
[caption id="attachment_14231" align="alignright" width="300"]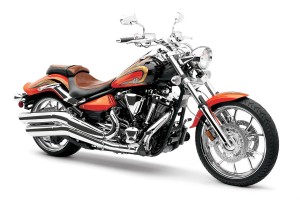 The Star Raider SCL cruiser is one of the head-turning bikes I can't stop thinking about.[/caption]

Retro styling is making a big comeback in the motorcycle scene, and the Star Raider SCL cruiser is one of the head-turning bikes I can't stop thinking about. This motorcycle is the first in a brand new line from Star Motorcycles (owned by Yamaha) called the Star Custom Line (SCL). This limited edition bike may seem familiar to some, as it is based on the company's Raider S, which has been on the market since 2008.

The new bike is bold and eye-catching, with a laid-back design, a comfy two-tone distressed-leather seat and loads of cool details. There's plenty of chrome all over the bike, from the belt cover to the custom five-spoke wheels. Only 500 Star Raider SCLs were produced, and if you can't tell the model apart by its looks alone, the custom holographic badge on the fuel tank will let you know what you're dealing with.

The fuel tank and other body details are painted a rusty but bright orange called Blazing Orange with black and gold accents that nod to the era of custom choppers. The custom paint job involves a six-layer painting process that results in a hard-to-miss look, and the stitching on the leather seat is even done in orange to really tie the overall look together.

[caption id="attachment_14234" align="alignleft" width="300"]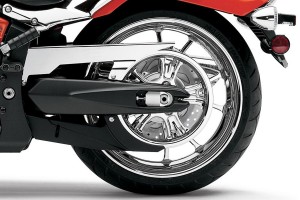 2012 Star Raider SCL's exclusive custom five-spoke rear wheel and chrome belt guard.[/caption]

If you get the chance to ride one of these bad boys, let alone own one, you'll be working with a 1,854cc air-cooled V-twin engine that offers plenty of power. Combined with the lightweight aluminum frame, the engine provides agile handling for a fun ride whether you're just going to work or heading out on a longer cruise. The bike has a 120/70-21-inch front tire and a 210/40-18 in the back, which is the widest tire the company has ever used on one of their street bikes.

This custom ride costs a pretty penny at $19,900 a pop, which is $4,600 more than the best standard Raider offered by Star. This is because of all the customization that you will find exclusive to this bike. Even if you wanted to trick out a regular Raider to save money, you'd never be able to compete with the SCL, as Star Motorcycles have made it impossible to get a number of the motorcycle parts, like the wheels or the chrome belt guard.

2012 Star Raider SCL Image Gallery
(Click for full size images)