California Parks Director Resigns Over Recently Found $54 Million
Chaparral Motorsports
|
July 24, 2012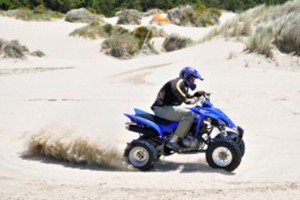 The director of the California Department of Parks and Recreation has resigned after officials found nearly $54 million in surplus money that had been left to sit in an account for nearly 12 years.

Director Ruth Goldman stepped down following the revelation, writing in her resignation letter that she was "appalled" by the findings and had no knowledge of the money. The funds were significant because the California state parks system was faced with several closures due to a lack of funds, reports The Associated Press. Had the money been properly reported, several popular ATV and dirt bike areas could have remained open.

State financial officials will now conduct a full audit of the department to see if any other money is missing. The bureau was originally being investigated due to concern over employee vacations that were not authorized by the state. These vacations may have cost the taxpayers more than $200,000 - but it was ultimately small potatoes compared to the missing millions.

Now that the money has been found, the state will need to decide how best to put it to use. Last month, it was announced that most of the 70 parks originally slated for closure would remain open - the money found could keep a few more in business.

"This money is obviously one-time money and we will be working with the legislature to see how to best use it," Clark Blanchard, spokesperson for the Natural Resources Agency, told the news source.