ECU Issues Cut Valentino Rossi's Mugello Test Short
Chaparral Motorsports
|
July 20, 2012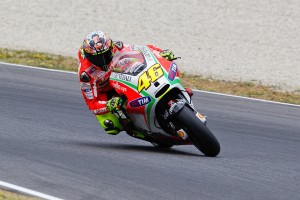 After the Italian Grand Prix at Mugello this past weekend, Ducati's Valentino Rossi stayed in his home country of Italy to get in some test time with the new Ducati GP12 that the factory has been working on. Unfortunately, a glitch in the engine control unit (ECU) cut the testing time short.

Rossi and his teammate Nicky Hayden were eager to get their hands on the new bike, as the two have been struggling in MotoGP on the current model. The updated ECU is supposed to provide better power management for the bike, but the teammates didn't get to test it for too long before problems arose.

Rossi reportedly put in a good time with the bike in the morning, then took a break for lunch. When he came back, the ECU glitched out on him and he suffered a small fall.

"Fortunately, I was leaned over quite far at that point so I just tipped over, and nothing bad happened," Rossi told the news source. "In the interest of safety, we decided to stop because the engineers have to analyze the data to understand what happened."

Rossi hasn't found much success with Ducati, although the team wants to keep the superstar under contract at the end of this year. Ducati Racing boss Vittoriani Guareschi previously acknowledged that the new engine would essentially be the last chance the team has to convince the rider to stay on.