Weekend Warrior: Honda's FourTrax Rancher ATV Is A Performance Machine
Chaparral Motorsports
|
July 18, 2012
[caption id="attachment_14116" align="alignright" width="300"]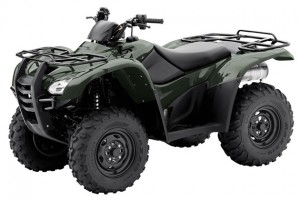 I got the chance to test out the 2013 Honda FourTrax Rancher 4x4 AT recently, and I must say the bike handled great.[/caption]

This year Honda introduced a pretty extensive lineup of ATVs, and I got the chance to test out the 2013 FourTrax Rancher 4x4 AT recently. I must say, the bike handled great, and thanks to the Electric Shift Program, all I had to do was push a button to switch gears flawlessly. I rode the ATV on a beautiful sunny day, but I can only imagine how great it would be to have that feature when riding with bulky boots.

The easy shifting let me take full advantage of the 420cc liquid-cooled engine, which had me flying around the track with ease. The independent rear suspension also helped provide a comfortable ride - far less bumpy than some of the other ATVs I've tried. The Electric Power Steering definitely contributed to the ease with which this off-road machine handled. Plus, I had the ability to switch between 2WD and 4WD, which is a huge advantage.

As far as performance goes, the ATV has a 7.2-liter airbox with a reusable foam air filter. This allows more air into the engine for better performance. Honda also redesigned the cylinder head to have a higher compression ratio for better mid-range and top-end power output. If you need to tow anything, like your friend's broken-down ATV, the FourTrax Rancher is equipped with a heavy-duty trailer hitch that can tow up to 850 pounds.

[caption id="attachment_14115" align="alignleft" width="300"]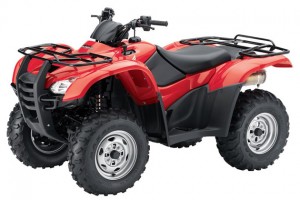 The Electric Power Steering definitely contributed to the ease with which this off-road machine handled.[/caption]

When it comes to looks, the FourTrax Rancher series doesn't really stand out among the crowd. Most of its features are more than skin deep, but you can choose from three colors - red, olive and NaturalGear Camo. If you prefer any other colors, you could probably have the ATV repainted pretty easily. The FourTrax Rancher AT starts at $7,099 if you skip the EPS, which is an additional $700. You could use the money you save by passing on the steering option to get your vehicle painted hot pink if you so choose.

All the professional reviews are claiming the Rancher to be one of the best ATVs on the market today, and I must say I'm inclined to agree. Overall, it was fun to ride and it's well equipped to handle any tough jobs like towing a small trailer of wood to build a ramp on your track.

2013 Honda FourTrax Rancher 4x4 AT Image Gallery
(Click for full size images)