The Dirt Bike Guy: Husqvarna Reveals New TR 650 Strada And TR 650 Terra
Chaparral Motorsports
|
July 18, 2012
[caption id="attachment_14106" align="alignright" width="300"]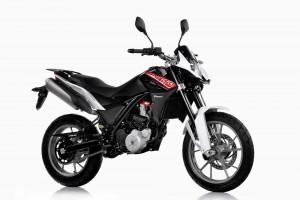 The 2013 Husqvarna TR 650 Strada is based on the BMW Motorrad G650GS, but has been altered and updated to become a high-performance machine.[/caption]

When BMW bought out Husqvarna in 2007, the dirt bike company stopped offering on-road bikes, but they recently announced a return to the road with the new TR 650 Strada. The bike will be accompanied by an off-road version, the TR 650 Terra.

The bikes are based on the BMW Motorrad G650GS, but they've been altered and updated to become high-performance machines. Both versions of the motorcycle feature the same engine - a 652cc water-cooled, single-cylinder dual-overhead cam (DOHC) motor - but with a few minor changes. A modified electronic fuel injection system and an increased compression ratio provide more power, better spontaneous response and higher revving. The engine generates 58 horsepower and more than 44 lb.-ft. of torque for a fun, easily maneuverable ride.

The overall look of both bikes is nearly identical, but there are a few minor details that separate them in terms of styling. The TR 650 Strada weights 375 pounds (414 lbs. with a full tank of gas) and has aluminum wheels with a 10-spoke design, while the wheels of the 368-pound Terra (405 lbs. with gas) have more of an off-road look with skinny spokes.

[caption id="attachment_14109" align="alignleft" width="200"]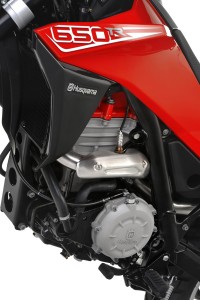 Both bikes feature the same engine - a 652cc water-cooled, single-cylinder dual-overhead cam (DOHC) motor.[/caption]

The off-road bike also has a high front fender, while the road bike's fender sits directly over the wheel. The paint job is a bit varied between the two bikes as well. The Strada is primarily painted black, while the Terra features a bold red side panel.

The bikes are equipped with single-disc brakes on both wheels for precision stopping, and the Strada comes standard with an antilock braking system. The Terra does not automatically come with this feature, but it is an option for interested riders.

Another thing I really like about the new TR 650 bikes is they are designed to be easier on the environment. A closed-loop three-way catalytic converter helps keep emissions low and improve fuel efficiency. Even with all the power and performance the bikes have, they still manage to have a very low impact on the environment.

The company has yet to reveal pricing or availability for the bikes, but I'm pretty excited to take both of these motorcycles for a test run.

2013 Husqvarna TR 650 Strada and 2013 Husqvarna TR 650 Terra Image Gallery
(Click for full size images)