Jorge Lorenzo Extends Lead At Mugello
Chaparral Motorsports
|
July 17, 2012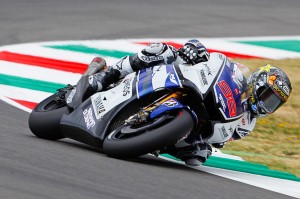 Jorge Lorenzo
put himself closer to the MotoGP championship at the Mugello Circuit in Italy, winning the race and breaking away from Dani Pedrosa and Casey Stoner in the points total.

Pedrosa has been on fire since winning his first Grand Prix of the season in Germany, and he kept up his blistering pace at Mugello. Pedrosa had the fastest lap of the day on the tenth lap of the race, and was just under a second behind Lorenzo for the first half of the proceedings.

Yet Pedrosa couldn't ultimately keep up with his fellow Spaniard, as little by little Lorenzo increased his lead until he was safely out in front.

Meanwhile, it was the second poor race in a row for Casey Stoner, who surrendered his joint points-lead with Lorenzo after crashing in Germany. Stoner was the only rider on the track to go with hard sport bike tires, and it appears to have cost him. Stoner wasn't near the front for most of the day, and eventually hit a gravel trap that dropped him to twelfth. He worked his way back to eighth, but has now fallen far behind Lorenzo in the point standings, where he has been surpassed for second by Pedrosa.