Congress Sets Aside $85 Million For Federal Trails Program
Chaparral Motorsports
|
July 13, 2012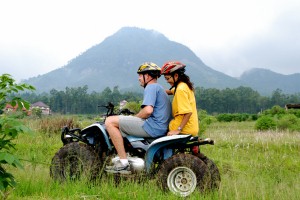 ATV and dirt bike riders will be able to continue to enjoy hundreds of trails across the country thanks to funding included in the recently-approved transportation bill, reports the American Motorcycle Association.

The Recreational Trails Program (RTP) was in danger of becoming extinct this year if more funding was not approved. Fortunately, lawmakers authorized an additional $85 million for the program. The money will keep RTP going through September 2014.

One of the reasons the program survived is because it is funded in part by the people who take advantage of it. A portion of the $85 million comes from federal motor fuel excise tax collected from non-highway recreational fuel use. In short, the taxes placed on fuel for snowmobiles, ATVs, dirt bikes and other vehicles goes right back into the program that maintains the trails.

"Motorcyclists and all-terrain vehicle riders by the thousands spoke about the benefits of the Recreational Trails Program and the fact that it's funded by off-highway vehicle users," said Wayne Allard, AMA vice president for government relations. "Federal lawmakers listened and continued this vital program."