Suzuki Launches 2013 RM-Z Motocross Bikes
Chaparral Motorsports
|
July 3, 2012
[caption id="attachment_13843" align="alignright" width="300"]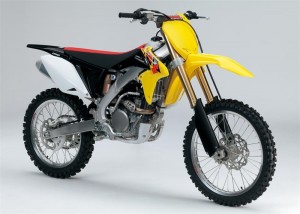 2013 Suzuki RM-Z250[/caption]

Suzuki Motor Corporation has launched its most technically-advanced, fuel-injected RM-Z450 and RM-Z250 motocross race bikes via its global network of Suzuki Distributors.

The 2013 RM-Z range represents the Japanese company's close and direct involvement and on-going development program with its Factory-supported race teams, including current FIM World MX1 Championship leader Clement Desalle and the Rockstar Energy Suzuki World MX1 team, the Rockstar Energy Suzuki Europe MX2 and Rockstar Energy AMA 250cc team in America; along with the Yoshimura-backed AMA squad of Brett Metcalfe, multi-AMA Supercross and Motocross Champion - and now Suzuki development rider - Ricky Carmichael; plus new team signing James Stewart.

Suzuki's new 2013-model RM-Zs are a direct spin-off from the machinery leading and winning championships in the hands of Team Suzuki riders worldwide. And, following changes from 2011 to 2012 in the arguably-already class-leading RM-Zs, Suzuki has upped the stakes and put into production what it has developed on the racetrack, with modifications to the engine, gearbox, electronics and suspension.

[caption id="attachment_13845" align="alignleft" width="300"]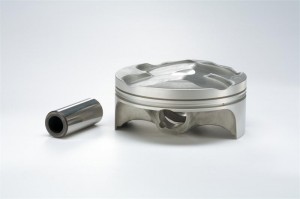 Both the 2013 Suzuki RM-Z450 and RM-Z250s feature redesigned, lighter-weight pistons.[/caption]

New Engine Modifications
Both RM-Z450 and RM-Z250s feature redesigned, lighter-weight pistons, manufactured using Finite Element Method (FEM) that saves weight, but without losing strength and overall durability. The connecting rod is reshaped and uses a shorter pin with a Diamond-like Carbon coating which contributes to a better overall throttle response and also more bottom to mid-range power delivery.

A new Electronic Control Module (ECM) with higher processing performance and a new high-power ignition system is also fitted to both machines to optimize combustion efficiency for increased roll-on performance. Both machines now come with the option to plug-in a new engine-operating self-diagnosis FI indicator into the ECU - a visible red-blinking display to better-manage maintenance intervals - (Part no. 36380-28H00).

The RM-Z250 gets an all-new 5-speed transmission, while the 450 benefits from a redesign that features a reshaped shift cam, stopper-spring and drive shaft; which result in a more solid shift-feel.

[caption id="attachment_13842" align="alignright" width="300"]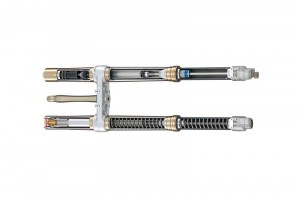 The main change on both machines is the new, larger 48mm Showa Separate Function Forks (SFF).[/caption]

New Chassis Modifications
The main change on both machines is the new, larger 48mm Showa Separate Function Forks (SFF), which separates the damper in the left leg from the spring housed in the right. This saves weight, reduces friction, improves damping; and gives better overall ride control. Spring pre-load is now adjustable and gives a wide-range of adjustment and is easier to set-up.

Frame construction and the seat rail on both machines are also refined and the overall rigidity improved to optimize traction and rider feedback. And, to make maintenance easier, new redesigned exhaust tailpipes on both machines now come with 'unbolt-able' inner ends, rather than the previous models' riveted units.

Overall, the 2013 RM-Zs have been designed to offer a more-usable power-surge across an even greater range for all calibers of riders, with more durability, despite saving weight, better overall and user-customizable handling, plus easier maintenance and fine-tuning of the latest evolution of the award-winning and Championship-winning machine from the Suzuki factory.

2013 Suzuki RM-Z Motocross Bike Image / Video Gallery
(Click for full size images)


You can view the latest videos of the RM-Z250 and RM-Z450 on the American Suzuki Motor Corporation (ASMC) website at the following links, but for more information, contact your local Suzuki Distributor.

Source: Team Suzuki