Honda Returning To Dakar
Chaparral Motorsports
|
July 3, 2012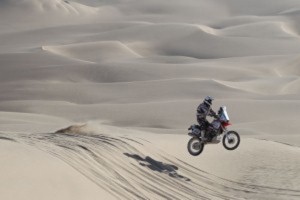 After a 23-year absence, Honda has announced its return to the famous Dakar Rally.

The grueling Dakar Rally features dozens of dirt bike riders competing on a multi-day endurance course through South America. The massive competition is considered to be one of the most prestigious in the world - yet Honda has not fielded a team since 1989. Honda competed in the Dakar Rally from 1981 to 1989, winning the event five times during that timespan.

That will change for the 2013 edition of the rally, when Big Red makes a comeback with a team helmed by Helder Rodrigues. Rodrigues took third place in the 2012 Dakar Rally, which was won by KTM's Cyril Despres. Rodrigues will be joined by Felipe Zanol, Sam Sunderland and Javier Pizzolito.

"The Dakar requires competitors to cover several hundred kilometers per day for more than two weeks," said Tetsuo Suzuki, president of Honda Racing Corporation. "It needs a totally different type of vehicle from events such as motocross, trials and road races. Honda has put a great deal of effort into designing and building a powerful and winning machine. We are aiming for the championship from this first year."

The four riders will reportedly use a prototype Honda CRF450X that Honda R&D has spent several years developing.