JCR/Honda Dominates 2012 Glen Helen 12 Hour Endurance Race
Chaparral Motorsports
|
July 2, 2012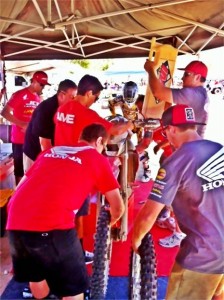 The Team of Colton Udall-David Kamo-Ryan Dudek powered their Eric Siraton prepped, Honda CRF450X to a dominate win at the Glen Helen 12 Hour last Saturday.

The course layout consisted of 10 miles of Glen Helen's finest terrain; the National MX, REM, Lucas Oil, SRA- tracks and the surrounding hills. Many single track trails, made for a more technical loop, keeping lap times around the 18 minute mark for the lead bikes. Dust and lappers would be a factor also, as passing had to be negotiated carefully through the tighter terrain.

The green flag dropped at 7:30am and JCR boys started off strong, battling for the lead for the first lap of the grueling endurance event. Bike #1 quickly took control of the race with in the first hour and set their sights on the checkered flag. A consistent ride and with the help of the awesome JCR Race Support pit crews, the bike only had to stop for planned maintenance, fuel and rider changes. At 7:30pm the checkered flag flew as the sun was setting and the JCR crew had logged in a total of 38 laps for their third consecutive Glen Helen 12 hour victory!

"We really enjoy endurance racing. It's what we do! The strategy, the planning, the effort our crews and racers put in, the racing itself, just makes a fun environment. Glen Helen does a great job with these events and we congratulate Lori, Gary and Ron for hosting a fun event for all dirt bike enthusiasts to take part in. I am proud of the JCR Team for making such a solid effort. We are looking forward to the 24 hour in September; Glen Helen has teamed up with District 37 for the event and should bring a lot of great teams to compete. Big thank you to our partners: American Honda, Chaparral, Fly, General Tire, Lucas Oil, Truth MX, Dunlop and all our associate sponsors." -- Johnny Campbell
Source: JCR/Honda