Factory FMF/KTM Team Sweeps EnduroX - X Games 18
Chaparral Motorsports
|
July 2, 2012
Mike Brown and Maria Forsberg Claim Gold Medals
[caption id="attachment_13804" align="alignright" width="300"]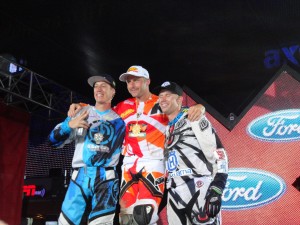 Mike Brown won the gold medal for EnduroX in X-Games 18.[/caption]

It was a victorious night for the Factory FMF/KTM Team as riders Mike Brown and Maria Forsberg swept the podium collecting the gold medal in both Men's EnduroX and Women's EnduroX at X-Games 18.

The EnduroX event at X-Games also marked the third round of the AMA EnduroCross Series in which Brown has been a podium contender all season. Brown was the man to beat early in the day after he set the fastest hot lap in the afternoon session.

Brown was placed in the first heat with reigning EnduroX gold medalist Taddy Blazusiak. When the gate dropped for heat one, Brown nailed the holeshot but was passed by Blazusiak after his bike stalled in the firewood pit. The two KTM riders battled back and forth the remainder of the heat before Blazusiak crossed the checkers first followed by Brown. Both riders transferred to the main event.

In the main event, Brown pulled the holeshot once again and leaped out front early. Unfortunately, Blazusiak got pushed to the far outside and came around the first corner in dead last position. Brown continued to stretch his lead out front while Blazusiak went to work in order to climb through the pack as quickly as possible. At the halfway point, Brown had a comfortable lead while Blazusiak had moved to 7th. With one lap to go, Brown made a mistake and got stuck on the rock hill allowing the 2nd place rider to close the gap. Brown recovered quickly and never lost his lead. He remained in the lead and came around the final lap to collect his first-ever AMA EnduroCross win as well as his first X-Games gold medal. Blazusiak charged forward and was able to finish 4th overall in the main.

"It feels so great to get this gold medal," remarked Brown. "I have been working really hard training for EnduroCross and it is great for it to pay off. I am so thankful to my team and very happy that my family was here to see me get this win."

[caption id="attachment_13803" align="alignleft" width="300"]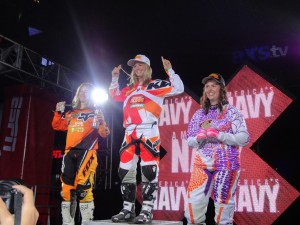 Maria Forsberg at the top of the 2012 EnduroX X-Games Women's Podium.[/caption]

In the Women's class, it was a battle until the end for the gold medal. Forsberg and fellow KTM rider Louise Forsley hopped out front early, but crashes by both riders kept the battle close. The two ladies swapped the lead a few times before Forsberg was able to regain the lead with two laps to go. She maintained her pace and went on to claim her second career X-Games gold medal. Forsley was able to finish 2nd and RPM/KTM rider Chantelle Bykerk rounded out the podium in 3rd position to make it a KTM podium sweep.

"My whole year is designed around this event," remarked Forsberg. "It feels amazing to get the win here tonight. All of the women have improved so much since last year and it made it very difficult to get the gold tonight. I am so grateful to my team and my family that have helped me get here. This is the best feeling in the world."

Overall Results - Men's EnduroX


Mike Brown

Cody Webb

Cory Graffunder

Taddy Blazusiak

Taylor Robert

Graham Jarvis

Destry Abbott

Geoff Aaron

Kevin Rookstool

Kyle Redmond

Overall Results - Women's EnduroX


Maria Forsberg

Louise Forsley

Chantelle Bykerk

Lexi Pechout

Kacy Martinez

Rachel Gutish

Tarah Gieger

Steffi Laier

Nicole Madsen

Nicole Bradford

Source: KTM North America