The Dirt Bike Guy: Sneak Preview Of 2013 Suzuki Motocross Bikes
Chaparral Motorsports
|
July 2, 2012
[caption id="attachment_13781" align="alignright" width="300"]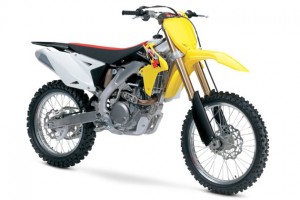 Suzuki offered a sneak peek at its 2013 motocross lineup, including the 2013 Suzuki RM-Z450.[/caption]

Suzuki's in a great place right now in the motocross market due to the success of James Stewart in the early weeks of AMA Motocross this year. Racing for Joe Gibbs, a Yamaha-backed team, it seemed as if Stewart was always one step behind the leaders. But Stewart switches to Suzuki and boom, he's suddenly dominating races. It's a shame Stewart suffered an unlucky injury that took him out of contention, because I would've liked to have seen what else he could have done on a Suzuki.

With that major piece of advertising for the brand fresh in everyone's minds, Suzuki offered a sneak peek at its 2013 motocross lineup. Looking at the initial changes revealed by the brand, I have to say I'm excited and would give these models a hard look if I was considering buying a dirt bike before the end of the year.

The big change on both the RM-Z250 and RM-Z450 are new Showa Separate Function front forks (SFF). This is one of my favorite features from the Kawasaki KX250F, so I'm glad to see it here. For the uninitiated, what this does is separate the spring and damping functions. The right leg holds the spring, while the left leg holds the cartridge assembly for the damping function. Ultimately this results in a lighter design, reduced friction, and better absorption, which should keep the bike performing well on a variety of tracks. The change will make the RM-Z450 the only 450cc bike incorporating this design - so we'll see how that goes when it faces off against other bikes of the same size.

[caption id="attachment_13780" align="alignleft" width="300"]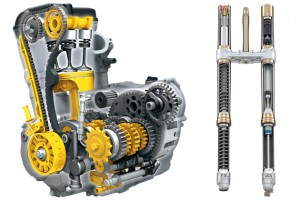 The big changes are new Showa Separate Function front forks (SFF) and the change to the bikes' engines.[/caption]

Some additional changes are being made to both models. The most significant is probably the change to the bikes' engines. Suzuki is using a new piston, piston pin and connecting rod, which the company says will result in improved torque and acceleration in the mid-range. Suzuki is also debuting a new 5-speed transmission for both models. The RM-Z250 also gets new motorcycle tires, in the form of Dunlop MX-51s for the front and rear.

Don't worry, fans of smaller bikes. Suzuki is still keeping the RM85 and RM85L for those who don't need all that power. These are good bikes for beginners as well. No significant changes are being made for 2013, however.

Overall, I think these are some excellent changes to the Suzuki family of motocross bikes and I can't wait to get on the track and try them out.