Josh Hayes On Top For NOLA Test
Chaparral Motorsports
|
June 29, 2012
[caption id="attachment_13755" align="alignright" width="300"]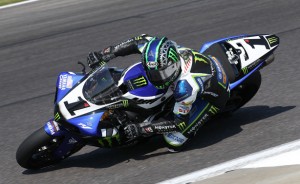 AMA Superbike leader Josh Hayes was on top of the NOLA test when the dust settled, turning in the fastest last time of the competitors - Photo: Brian J. Nelson[/caption]

Of the more than 55 riders participating at a two-day test in New Orleans, Louisiana, it was AMA Superbike leader Josh Hayes on top when the dust settled, turning in the fastest last time of the competitors.

The racers were at NOLA Motorsports Park in New Orleans for a test session in preparation for the upcoming AMA Pro Road Racing event at the track. The 2012 season finale is scheduled to take place at NOLA from October 5-7, so the racers were eager to get in some track time.

Hayes turned in the fastest lap time of 1:39.282. Much of the session was focused on riders attempting to break the 1:40 barrier, which Hayes did on the first day. Hayes eventually turned in multiple sub-1:40 lap times. Only two other riders managed to put a "39" in their scores - Blake Young and Roger Lee Hayden finished with times of 1:39.677 and 1:39.727, respectively. Ben Bostrom and Josh Herrin rounded out the top five.

"What a fun track, it's nice to be close to home," said Hayes, who is originally from Mississippi. "I saw a lot of friends come out, say hello and check it out, just for our test even, so I think that bodes well. Hopefully we're going to have a huge event. I think the track will be very spectator friendly, being as flat as it is. A lot of people can park their campers, get on top and see a lot of racetrack. If M1 brings out the jumbotrons like they're talking about, I think it'll be a great fan experience."