Brett Metcalfe Breaks Leg, Out For Year
Chaparral Motorsports
|
June 29, 2012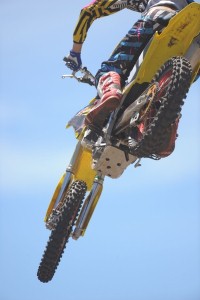 Suzuki rider Brett Metcalfe's 2012 motocross season has come to an abrupt end after the rider suffered a serious injury during training at Glen Helen Raceway in California.

Metcalfe, originally from Australia, was practicing ahead of the next round of the 2012 AMA Motocross Championship. The rider was on the last lap of his run and in a rhythm section when his bike ran out of gas. Metcalfe later tweeted that he was ejected over the front handlebars and broke both his wrist and his leg.

Surgery was performed on Metcalfe's injured leg this morning, and it's reported he will miss the final seven rounds of the championship due to the injury.

"We are all saddened that Metty's season came to an end like this," said Yoshimura Suzuki manager Mike Webb. "He has been so solid all year and lately has been gaining great momentum in the outdoors - we all certainly expected podium results throughout these last rounds. It's a shame he won't be able to realize those goals. Metty and his wife Sheena are expecting their first child in August and we will help and support Brett and Sheena in any way possible."

This isn't the first injury to befall the Suzuki team this year. After a bright start to the season, James Stewart also suffered a crash and has yet to return, although he is expected to by the end of the summer.