Motorcycle Maniac: Why I'm Excited For The New Triumph Trophy
Chaparral Motorsports
|
June 27, 2012
A Modern Bike With Historic Ties: Why I'm Excited For The New Triumph Trophy
[caption id="attachment_13707" align="alignright" width="300"]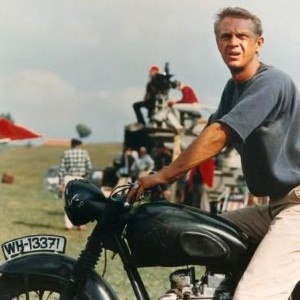 The Triumph Trophy conjures up instant images of Steve McQueen and his escapades in The Great Escape while riding a Triumph TR6 Trophy.[/caption]

I'll admit to having a bit of a disconnect with the younger generation when it comes to the bikes they choose to ride. It seems every young guy I see is riding a Honda, Yamaha or Kawasaki. These brands definitely make good bikes, and I've owned a couple myself. But I have to wonder if some of these kids have even heard of great brands like the British manufacturer Triumph, which are still sold in the U.S. despite their smaller (and aging) fanbase. Which might be why I'm so excited about the upcoming Triumph Trophy SE.

For older riders like myself, the Triumph Trophy likely conjures up instant images of Steve McQueen. Even the younger riders have probably heard of McQueen's escapades in The Great Escape, which launched a whole generation of riders. Fewer might know that he was riding a Triumph TR6 Trophy in that movie. Marlon Brando rode a Triumph. So did James Dean. There's definitely a nostalgia associated with this brand that's undeniable.

The new Triumph Trophy SE is a modern bike through and through, however. The bike is brand new for this year, and marks Triumph's entry into the sport touring market in the United States. The new Trophy is designed to go head-to-head with the BMW1600 and it looks like it'll put up a good fight.

The Trophy uses the 1215cc engine featured on the brand's Tiger Explorer model. This baby puts out 132 horsepower and 89 lb-ft of torque, which is plenty of power to get the blood pumping for an old geezer like me. According to Triumph, this includes a counter-rotating balancer shaft that will help smooth out the vibrations and keep longer rides from getting too annoying.

[caption id="attachment_13714" align="alignleft" width="300"]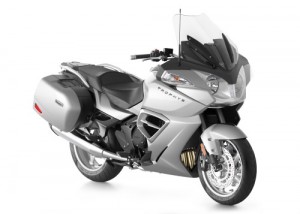 The 2013 Triumph Trophy SE is a modern bike through and through.[/caption]

For a bike with such ties to history, the Trophy is ultra-modern in just about all other aspects. This is a luxury bike, designed for the rider who wants to go on long trips in comfort and style. Features include an electronically-adjustable windscreen, heated seats, 31-liter saddlebags and a cockpit storage box with a 12-volt outlet.

This all comes in the base version of the bike, but that won't be available when the Trophy comes to North America in June 2013. American riders can only opt for the Trophy SE model, which is slightly more expensive but includes an electronic suspension upgrade, iPod/MP3 support, Bluetooth and a USB input.

I can't really imagine McQueen riding a Trophy with iPod headphones in his ears, but it's a sign of the times, I guess.