The Dirt Bike Guy: Husqvarna Unveils New Lineup
Chaparral Motorsports
|
June 25, 2012
[caption id="attachment_13634" align="alignright" width="300"]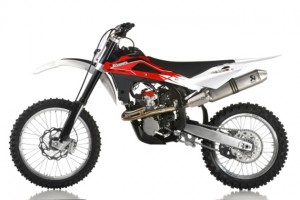 2013 Husqvarna TC250R features the brand's signature "Red Head" DOHC motor.[/caption]

Husqvarna has always been a bit of a red-headed (pun intended) stepchild in the world of motocross. The BMW-owned manufacturer doesn't sponsor anyone in the world of AMA Motocross or Supercross, leading to a reduced visibility here in the States. Despite that, the company has been around for years and there's still a fair share of Husky supporters in the United States. The brand recently pulled the lid off their 2013 off-road models, and there's quite a few changes here that are worth looking at.

The company breaks their bikes into four groups, using different naming designations for each. Motocross (TC for four-stroke, CR for two), Cross-Country (TXC), Two-Stroke Cross Country (WR) and Dual Sport (TE) bikes are all back for the 2013 model year. In total, the brand plans on bringing 11 models to the states.

Most will be interested in the motocross models, with the TC250R being the brand's baby. The 250R features the brand's signature "Red Head" DOHC motor, which will also now be featured on the TE310R and both TXC bikes. The engine debuted last year and has garnered significant acclaim for Husky, though I haven't had a chance to try it myself. The motor has been reworked slightly for 2013, with a new lightweight piston inspired by F1, a different cylinder and the addition of electronic fuel injection. Husqvarna is also introducing new cams and larger diameter valves for these bikes.

That should result in a significant power increase across the board on these four bikes, and seems to be where most of Husqvarna's development dollars went for this year. That's in contrast to the TC449, which is relatively unchanged from the previous year. Sure, riders will get new graphics, all-black Domino grips and a bar pad, but those changes are shared across the entire lineup. If you want a TC449, it's likely a better plan to save some money and just get last year's model.

For those who like to ride on the street as well, the TE models are worth a look. For this year, Husqvarna has made changes to the TE310R, TE449 and TE511, which are the three most expensive bikes in the off-road lineup. The motorcycle tires have been changed for this year to utilize a new rubber compound that should perform better off-road. In addition, Husqvarna has repositioned the fuel canister after some riders complained it was obtrusive.