New Yamaha ATVs Are Made In The USA
Chaparral Motorsports
|
June 22, 2012
[caption id="attachment_13591" align="alignright" width="300"]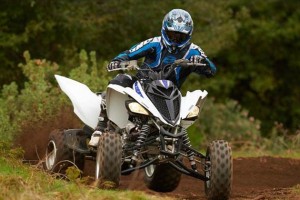 2013 Yamaha Raptor 700, now made in the USA[/caption]

Many riders want to "buy American" when it comes to motor vehicles, but that can be difficult when selecting an ATV. Almost all of the models on the market are made by foreign brands, and there are few made in the United States. That's changing this year, as Yamaha's new Raptor 700's are the brand's first sport ATVs made in America.

Beginning in 2010, Yamaha shifted some of its production to the United States, beginning with the Grizzly 550 and 700 UTVs. Now, the very popular Raptor 700 will also be American-made, starting this year. The ATVs are made at the YMMC facility in Newnan, Georgia.

"Yamaha's ATV production transfer represents the company's long term commitment to the U.S. ATV market as well as its significant investment in the YMMC facility," said Steve Nessl, Yamaha's ATV/SxS group marketing manager. "Yamaha's U.S. factory is state-of-the-art with highly trained and passionate U.S. workers who are turning out the most durable and reliable ATV and SxS products. Yamaha is proud to bring more ATV production to the U.S. - the world's largest ATV market - and to be part of the local community in Newnan."

The new Raptors will hit Yamaha dealerships this summer.