The Dirt Bike Guy: What's New On The Kawasaki KX250F?
Chaparral Motorsports
|
June 22, 2012
[caption id="attachment_13604" align="alignright" width="300"]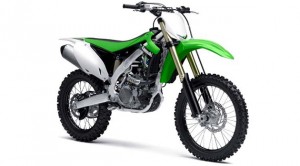 2013 Kawasaki KX250F[/caption]

Kawasaki has updated their KX250F dirt bike for 2012, and while I can't say this is my favorite 250cc bike on the market, the changes do look positive. The manufacturer claims to have slimmed down the model in order to achieve an overall faster bike, and the multitude of changes made for this year seem right in line with that philosophy.

One of my key criticisms of the KX250F is that it always felt a little bit bulky on the track. I like a bike that I can flick around a bit as I hit jumps, especially when it comes to the smaller 250cc models. The KX250F was just never agile enough for me in its previous incarnations.

Fortunately, it appears Kawasaki took these criticisms to heart on the new bike. The chassis has been slimmed down in several strategic areas, and the new motorcycle seat is flatter. Overall, the frame has been shortened so that the distance between the main spars is 4 millimeters less. The manufacturer says the bike is less rigid, the rear tire should be a bit more responsive and the overall feel should be more comfortable. Those all sound like necessary changes to me.

I do give the KX250F props as being the first dirt bike in the 250cc class with electronic fuel injection. Like the 450cc model, the new KX250F has an adjustable ECU with ignition mapping.

The power has been addressed too, with a focus on giving the bike more ability in the low end. Not only does the new Kawasaki feature a slightly increased compression ratio, but it also sports an all-new exhaust system. Approximately 30 millimeters have been taken off the exhaust header in order to reduce the noise and improve power in the bottom-to-mid range. This includes a new resonator chamber that should keep the bike quiet. Personally, I hope it doesn't get too soft - I know it annoys some riders, but I like to hear the roar of an engine as I ride, it's part of the fun for me.

With all these changes, among others, I have to give Kawasaki credit. It seems the manufacturer put some significant time and energy into improving this bike. I hope I get a chance to try it out on the track soon.