Cal Crutchlow Hopes To Ride Alongside Jorge Lorenzo On Factory Yamaha
Chaparral Motorsports
|
June 22, 2012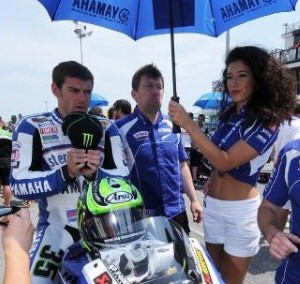 MotoGP points leader Jorge Lorenzo has signed his contract extension for the factory Yamaha team, but who will be racing alongside him remains a mystery. American rider Ben Spies currently occupies the spot, but with poor performances so far this year and no contract offer on the table, his time may be coming to an end.

Positions on factory teams are highly desired in the world of MotoGP, as the riders have access to the best bikes and support. Almost all of the winners come from factory teams, although those on independent or "satellite" outfits can give the top dogs a run for their money.

Fresh off of his incredible ride from last to sixth place at Silverstone, Yamaha satellite rider Cal Crutchlow recently told Crash.net he believes he has a "good shot" at being the factory rider alongside Lorenzo next year, assuming Spies' contract isn't renewed. Another satellite Yamaha rider, Andrea Dovizioso, is also likely to be considered.

"At the minute we've proved what we can do, but Andrea has been in a factory team for three years already and has come back to a satellite team and is obviously one of the best riders around." Crutchlow told the news source. "He's already been in a factory team so maybe that will be in my favor."