Cal Crutchlow Stuns Hometown Crowd Riding On Injured Ankle
Chaparral Motorsports
|
June 19, 2012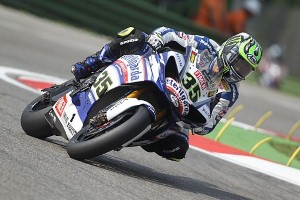 Heading into the British GP at Silverstone, many were unsure if hometown favorite Cal Crutchlow would even be on the track. During practice for the event, Crutchlow fell hard and fractured his ankle, throwing his status for Sunday's race into doubt. Unwilling to miss his hometown race, Crutchlow opted to compete on his bad ankle, and the result was an incredible run from the back of the pack.

Since Crutchlow missed the qualifying for the race due to his bad ankle, he began the race behind all the other riders at the back of the grid - but he wouldn't stay there for long. With his hometown fans cheering him on, Crutchlow weaved his way past other riders all the way to sixth place.

Many might not consider sixth place to be impressive, but considering he had to pass fourteen other riders to get there, Crutchlow deserved the standing ovation he received from the fans as he crossed the finish line. According to Crash.net, Crutchlow's lap times would have put him very close to the eventual winners, so his poor starting position may have ultimately kept him from the podium.

"I never imagined I could get sixth position because normally if you start from the third row it is very difficult to get into that position," Crutchlow told the news source. "So starting from the back of the grid, I'd have been happy to finish the last prototype bike. It was a very tough race but I just had to try and ignore the pain and let the adrenaline and support of the British crowd get me through."