Jorge Lorenzo Explains Why He Chose To Stay With Yamaha
Chaparral Motorsports
|
June 14, 2012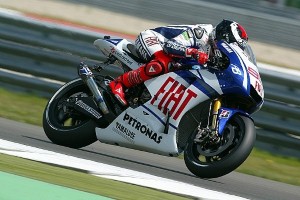 Besides Casey Stoner's shocking retirement, the off-track news of the year thus far in MotoGP is Jorge Lorenzo's decision to stay with Yamaha. Much like Stoner's retirement, the news caught many fans off-guard, as Lorenzo announced the decision much earlier than stars usually re-commit to a team. Lorenzo recently told Cycle News his reasoning behind the decision.

At a press conference before the British GP in Silverstone, Lorenzo revealed he did have an offer on the table from Honda. The move was expected after Stoner announced his retirement, as the Japanese manufacturer is considered one of the more successful MotoGP manufacturers and Lorenzo would be the rider best-suited to fill Stoner's seat. Yet Stoner ultimately decided to stick with Yamaha.

"[It's] been difficult to take the decision, because this time I have an offer from another brand, from Honda," he told the news source. "And to take the decision has been very tough. But finally I hear a little bit my heart and my heart say Yamaha. Just made a decision with my heart."

Many pointed out Lorenzo may have cost himself some money, because his value increases with each race he wins. At this point in the season, Lorenzo is atop the point standings and the favorite to win the championship.

However, Lorenzo said he didn't want to drag out the process of re-signing, as he had with his previous two contracts. The Yamaha star told the news outlet he would also be "a little bit less worried" for his next few races now that he's signed.