Clement Desalle, Jeffrey Herlings Win Portuguese GP
Chaparral Motorsports
|
June 14, 2012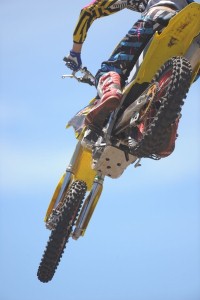 Clement Desalle
picked up his first overall win of the year in the MX1 class while Jeffrey Herlings triumphed in the MX2 class at the Portugal Motocross GP in Agueda, reports Cycle News.

In the first moto of the MX1 class, Desalle cruised to an easy victory, winning by more than six seconds over Christophe Pourcel. Unfortunately, he couldn't keep that up for the second moto, later telling Cycle News he was tired after the first race. Desalle only finished third in the second race, but it was enough to get him the overall win. Gautier Paulin, who finished fourth and first, was second overall.

While Desalle gained slightly in the point standings, he still trails Antonio Cairoli, who sits at 295 points. Desalle's 258 points put him slightly ahead of Paulin, who has 255.

Meanwhile, the MX2 championship has turned into a two-horse race between Jeffrey Herlings and Tommy Searle. The riders traded victories over the weekend, with Herlings winning the first moto and Searle taking the second. Herlings was the overall winner, as his second-place finish in the race he didn't win was better than Searle's third. The gap in the overall standings between Herlings and Searle is now 24 points, with Herlings on top.