Weekend Warrior: The Polaris RZR XP 900 Is The Ultimate Weekend Warrior Machine
Chaparral Motorsports
|
June 13, 2012
So it's barely been a week since I've begun writing for this site, and I already can't contain my enthusiasm for the Polaris RZR. My riding buddies like to tease me about my love affair with my own RZR, which is why I figured I had to start my used ATV reviews with what I consider to be the best of the best. I'll try to contain my bias as I review this side-by-side objectively, but let's make one thing clear from the start: I love this machine.

[caption id="attachment_13426" align="alignright" width="300"]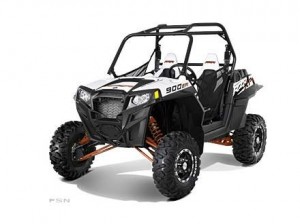 Polaris Ranger RZR XP900[/caption]

I've got a Polaris Ranger RZR XP 900 myself, and I remember just before I bought it I was considering a Can-Am Commander as well - not a weak side-by-side by any stretch of the imagination. But after I got behind the wheel of the RZR, I knew I wasn't going to end up buying anything else.

If there's one thing you should know about the RZR XP 900, it's that it's a toy. The factory model of the vehicle doesn't even come with a tow hitch, so this isn't the kind of UTV you'd use to get some work done on the farm or construction site and then go riding on the weekends. This machine is made for recreation, and boy does it excel at it.

The 875cc, 4-stroke, fuel injected, DOHC Twin cylinder engine is what gives the vehicle its formidable reputation. Before the RZR XP debuted, many thought Polaris would simply be using one of the engines from their other vehicles. Yet this engine is designed specifically for the RZR XP, and it shows. The rev ceiling on this thing is enormous, and Polaris claims 88 horsepower with a top speed of 73 miles per hour - just insane for a side-by-side. Trust me, your heart will be pumping as soon as you get up around 60.

I could tell you about the massive shocks or the three-arm trailing link suspension, but I'll cut to what you really want to know about: this thing flies no matter what terrain you're on. It handles rough paths, whoops, dunes and just about anything else you can throw at it. The RZR XP chews it up, spits it back out and asks for more.

So it reads like I'm gushing about the machine, and I do love it. If there's one criticism I'd have to make, it's general cornering and handling. The RZR XP is a big machine - sometimes even too big to fit on a narrow trail. As such, it's understandable it can have some issues when sliding around corners. I like to think of my RZR XP as a bit like a NASCAR vehicle - it's amazing in open terrain and handling slight turns. But if you're the type who likes twisty, winding trails, you may want to look at a more agile vehicle.