Weekend Warrior: Power Is King With Yamaha's 700R
Chaparral Motorsports
|
June 8, 2012
Yamaha has announced its new 700R ATV, and from the looks of it this is one machine that should be on every rider's radar. I've seen tons of 700s and 700Rs when I'm out on the trail, so I know it's a popular quad bike. And I've even spotted a few on the rare chance that I get out to the dunes, so it's clear Yamaha makes a good machine.

[caption id="attachment_13229" align="alignright" width="300"]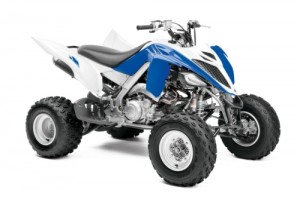 2013 Raptor 700R Blue-White[/caption]

One thing that jumped out right away when I saw the details of the new 700R is the price. I can't count how many times I've been checking out a new ATV and saw that the manufacturer increased the price. I don't know about you, but I've got two kids and these ATVs are expensive. The new 700R isn't cheap, coming in at $8,100, but it is reduced $300 in price from the previous year's model. I can appreciate that.

Obviously, any drop in price sets off alarm bells that this machine might not be what it once was. Fortunately, Yamaha hasn't touched the performance of the vehicle in any way. It seems like much of the cost-cutting came in the ATV's computer systems. There's no more digital speedometer, but I can't say that's a necessity for riding. Besides, if I really feel I'm missing something, I can always just pick up some ATV accessories anyway and upgrade it myself - probably for much less than $300.

What draws me to the bike right away is its power. The 700R has a 686cc, four stroke, liquid-cooled engine with quick-revving capabilities not typically seen on a big bore. That's mated to a five-speed transmission - plus reverse - so you can manage all that power. Remember, this isn't a side-by-side or anything like that - it's a regular ATV, about 422 pounds. From the sounds of it, you'll go flying on this thing.

You get that even if you go with the regular 700, which comes in at $7,700. Sounds pretty good to me. So what's that extra $400 bucks get you when upgrading to the 700R? The answer is fully-adjustable shocks with high and low-speed compression damping. That essentially allows you to very easily tune your suspension for whatever terrain you're riding on. I suppose if you stick to the same trail every weekend, you don't really need it - but personally, I love bouncing around on all sorts of trails.

I don't know if it's enough to tempt me away from my Polaris RZR, but the Yamaha 700R looks like a sweet ride. I can't wait to get to try one myself - and when I do, I'll have a full review for you.