Tommy Hayden Signs With Yamaha Through End Of The Season
Chaparral Motorsports
|
June 8, 2012
[caption id="attachment_13261" align="alignright" width="300" caption="Tommy Hayden road as a sub at Road America, now he is signed to the team - Photo: Brian J. Nelson"]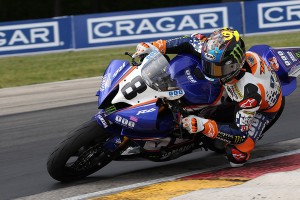 [/caption]

After initially starting in the series as a substitute for the injured Garett Gerloff, Tommy Hayden has signed an extended deal with Graves Yamaha that will see him finish out the Daytona SportBike season.

After Gerloff went down in the Daytona 200, Hayden signed on with Yamaha to sub in for the races Gerloff would miss. However, it appears Gerloff may now be out for the entire season, as Yamaha have offered Hayden a contract to finish out the series with the team, reports Cycle News.

"I'm really excited to be able to continue racing for Y.E.S./Graves/Yamaha for the rest of the season," Hayden told news source. "My approach to racing won't be any different. I try my best, no matter what. I definitely don't feel like I've performed to the best of my ability, so I'm glad to be able to continue with the team. We'll be working hard to get wins."

Hayden has a long history in motorsports, and it runs in his family, as his brothers Nicky and Roger Lee are also pro racers. Many fans of the rider remember his championship days with the #22 affixed to the front of the vehicle. As part of the deal, Hayden will be able to use #22 on his bike for the remainder of the year.