Carlos Checa Looks Good In Misano Qualifying
Chaparral Motorsports
|
June 8, 2012
[caption id="attachment_13259" align="alignright" width="300" caption="Carlos Checa flying around the Miller Motorsports track."]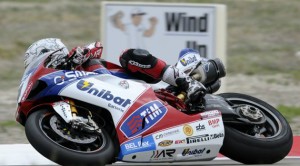 [/caption]

Defending champion Carlos Checa has looked strong thus far in World Superbike, and his form continued during the first qualifying session ahead of this weekend's race in Misano, Italy.

Checa was in command of the top spot on the leaderboard for most of the day, although many riders were quite close to him with their times. With ten minutes left in the session, Jonathan Rea surpassed Checa's time with a 1:36.568 lap. However, Checa quickly responded and beat Rea in the final minutes, completing his lap in 1:36.521, according to Cycle News.

While Checa is the defending champion, Max Biaggi is currently on top of the point standings. Biaggi was third overall with a time of 1:36.703. Biaggi is thought to have an advantage because Misano is his home track.

American rider John Hopkins finished a disappointing sixteenth, but it wasn't exactly bad news for the competitor. Despite being at the back of the pack, Hopkins was less than a second behind Checa. It seemed the entire field was contained within just one second, meaning the Misano race is likely to be highly competitive.