Martin Cardenas Extends Points Lead At Road America
Chaparral Motorsports
|
June 7, 2012
[caption id="attachment_13226" align="alignright" width="300" caption="Martin Cardenas notched his third straight win in a row last Sunday - Photo: Brian J. Nelson"]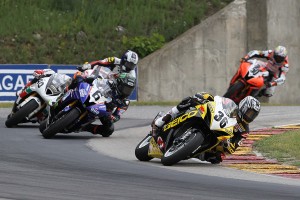 [/caption]

It's still rather early in the Daytona Sportbike season, but already it appears as if Martin Cardenas will easily walk away with the crown. The Suzuki racer notched his third straight win in a row last Sunday, extending his lead in the point standings to nearly 50 points.

Cardenas looked strong as he picked up the win by more than a second, picking up his sixth win in seven races. Cardenas' chief opponent, Cameron Beaubier, made it a close race, although Cardenas pulled away toward the end.

"I made a good start and I tried to push and get into a good rhythm, to see if anyone could come with me to the front," Cardenas said. "I knew the last two laps were important so when the time came, I pushed hard."

Things got worse for Beaubier, as he crashed on the final lap and ended up with no points for all his efforts. Jason DiSalvo fought his way through the pack to take second, while J.D. Beach earned the first ever podium for his Red Bull team in third.

DiSalvo is now second in the point standings, but he's still a long way off from Cardenas, trailing him 159 to 206.