Justin Barcia Victorious In 250cc
Chaparral Motorsports
|
June 6, 2012
[caption id="attachment_13128" align="alignright" width="300" caption="Justin Barcia turned in a dominant performance at Thunder Valley to close the point gap on 250cc class leader Blake Baggett - Photo: Frank Hoppen"]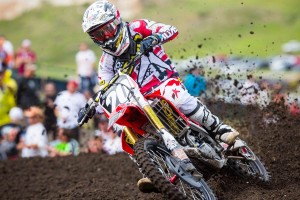 [/caption]

Justin Barcia turned in a dominant performance at Thunder Valley to close the point gap on 250cc class leader Blake Baggett.

Barcia began the day by winning the first moto and leading for all 16 laps. The Honda rider didn't grab the holeshot, but did get out in front by the end of the first lap and never really had to look back.

The second moto was more of a challenge. Baggett pulled away early, while Barcia dueled with Ken Roczen for second place. Roczen eventually crashed on the final lap, allowing Barcia to take second. Since Baggett could only manage a third-place finish in the first moto, the second spot was enough to win Barcia the weekend.

"Last weekend was tough on me, but today was awesome," said Barcia. "The first moto couldn't have gone any better and the second moto was good too. I knew what I had to do [in the second moto]. I rode my own race a little bit, but then I put on a hard charge at the end. Ken and I may have touched a little bit, but I just kept going."

With his victory, Barcia is now just 16 points behind Baggett in the standings. Roczen is a challenger for the championship as well, only 3 points behind Barcia in third place.