The Dirt Bike Guy: James Stewart Can't Catch A Break
Chaparral Motorsports
|
June 6, 2012
While I can't say I'm a Suzuki man, I have been rooting for James Stewart in the Lucas Oil AMA Motocross Nationals. It's just a great story - we all remember that stunning 2008 season when Bubba won every single moto and dominated the competition. Since then, however, it seemed like Stewart fell by the wayside. Some have called Stewart "reckless" on the track and it's hard to disagree - crash after crash led to injury after injury.

[caption id="attachment_13120" align="alignleft" width="300"]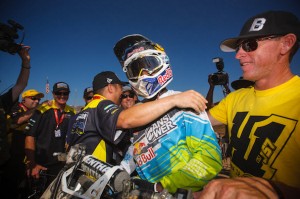 James Stewart can't catch a break[/caption]

So I was as psyched as anybody when Stewart came out of the gate firing in the AMA Motocross Nationals. Now some might say the only reason Stewart had success in the early going is because Ryan Villopoto is out of action - and that might be true. But even assuming Villopoto would have won those races, Stewart's form wouldn't have gone unnoticed. It's safe to say moving away from Joe Gibbs Racing has done wonders for the young rider, and I was happy to see him pick up the early victories.

Yet every time Stewart seems to pick up a bit of momentum, bad luck (or reckless riding?) rears its ugly head. I winced as Stewart went down and hurt his wrist this past weekend, especially since he was in the lead at the time. It seems unfair, but one crash can be enough to ruin an entire season.

Nobody knows the extent of Stewart's injury - it's possible he'll be back in time to challenge for the championship the rest of the year. But with Ryan Dungey hot on his heels in the first few races, this wasn't a crash Stewart could afford. Dungey easily rode to victory in both motos and now has command of the point standings with a 36-point lead on Stewart. Even worse, Jake Weimer is now in second place, up one point on Stewart. For someone who started the season so well, it's clear this crash and the subsequent dual DNFs Stewart took were a disaster.

Hopefully Stewart won't miss any time from here on out and can make up the 36-point gap between himself and Dungey.