James Stewart Goes Down, Ryan Dungey Cruises
Chaparral Motorsports
|
June 5, 2012
[caption id="attachment_13102" align="alignright" width="300" caption="James Stewart took the lead early on, but had a return of bad luck - Photo: Frank Hoppen"]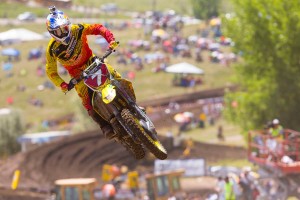 [/caption]

The star of the AMA Motocross series thus far has undoubtedly been James Stewart, who has rejuvenated his career with a run of dominance over the first few races. Competing for Yoshimura Suzuki, Stewart's great start to the AMA Motocross season has been a major turnaround from previous seasons marred by crashes and poor performances.

Unfortunately, the latest round seemed to be a return of bad luck for the young rider. Stewart took the lead early on and it looked like the race at Thunder Valley Raceway wouldn't be unlike his other victories thus far. Unfortunately, Stewart went down hard and wasn't able to return, resulting in a DNF for both motos.

With Stewart out of the way, the victory was rather simple for Ryan Dungey, who notched the first win for KTM in Motocross Nationals. Dungey has been second-place to Stewart thus far this season, but the crash allowed him to take both motos and command of the points standings.

"I hate to win like that," said Dungey. "James and I have pushed each other to new levels and hopefully he heals up and comes back. My game plan is always the same, to take it one race at a time. You can't focus on the end result and we saw that today. I just do my own thing, put my best foot forward, and never underestimate anyone."