Blake Young Double-Podiums At Road America
Chaparral Motorsports
|
June 5, 2012
[caption id="attachment_13094" align="alignright" width="300"]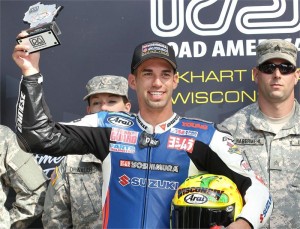 Blake Young raced his Yoshimura Suzuki GSX-R1000 to two podium finishes in front of his home crowd at Road America.[/caption]

Blake Young raced his Yoshimura Suzuki GSX-R1000 to two podium finishes in front of his home crowd at the Road America AMA Pro Superbike Championship double-header in Elkhart Lake, Wisconsin at the weekend as team mate Chris Clark took his best result of the season with seventh-placed results on Saturday and Sunday.

The first Superbike race of the weekend was delayed and shortened due to powerful storms sweeping through the area. Despite the gusting wind and torrential rains, Young put his head down and got a good start from the second spot on the grid and conservatively clicked-off smooth laps to finish second. On Sunday, the weather improved and Young turned in a more-aggressive performance, dicing with his competition right down to the wire before bringing home second. These results bring Young's podium tally to nine in as many races this year.

Said Young: "I admit I'm a little disappointed. I'd hoped to win at my home track, but this weekend was definitely a learning experience and I know that we have some improvements to make. We have a few weeks before the next race so we'll go back and figure out what we need to do to come out strong for Barber."

Team-mate Clark was undaunted by the bad weather and had a good showing at Road America: He started both Superbike races from the third row and then slotted his Yoshimura Suzuki GSX-R1000 into solid positions in both rain and shine. After running as high as fifth on Sunday, Clark carded two seventh-place finishes at the end of the weekend. Currently, Clark is tied for eighth in the overall Championship points.

[caption id="attachment_13096" align="alignleft" width="300"]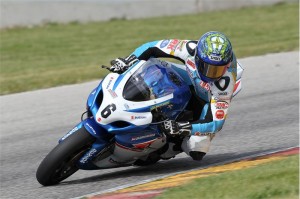 After running as high as fifth on Sunday, Chris Clark carded two seventh-place finishes at the end of the weekend.[/caption]

"Right before the first race, we caught the tail end of a big storm," said Clark. "But by the time the race started, it was drying. Unfortunately, I got behind a rider whose bike was spitting oil. Once he was off the track, I put my head down on the Yoshimura Suzuki GSX-R1000 and gained time. By the white flag, it was raining again and the race was red flagged, but I kept pushing and cut the gap even more. Sunday's race was a hard-fought battle for fifth. Unfortunately, I made a mistake and wound up seventh, but I'm happy with the bike and my lap times show that. Now, I'm looking forward to Barber and moving forward."

Team Yoshimura Suzuki Racing's next event of the 2012 AMA Pro Superbike Championship series is at Barber Motorsports Park in Birmingham on June 22-24th.

Road America Overview And Point Standings
2012 AMA Pro National Guard Superbike Road America Image Gallery (Click for full size images)


Road America Superbike Results - Race 1:



Josh Hayes

Blake Young

Josh Herrin

Ben Bostrom

Larry Pegram

Jason Farrell

Chris Clark

Geoff May

Chris Fillmore

Stefan Nebel

Road America Superbike Results - Race 2:


Josh Hayes

Blake Young

Josh Herrin

Ben Bostrom

Danny Eslick

Geoff May

Chris Clark

David Anthony

Chris Fillmore

Larry Pegram

2012 Superbike Class Standings:


Josh Hayes - 257

Blake Young - 237

Josh Herrin - 151

Roger Hayden - 126

Geoff May - 123

Larry Pegram - 123

Ben Bostrom - 111

Danny Eslick - 107

Chris Clark - 107

Chris Fillmore - 101

Source: Team Suzuki