The Dirt Bike Guy: 2013 Honda CRF450R Preview
Chaparral Motorsports
|
June 4, 2012
[caption id="attachment_13062" align="alignright" width="300"]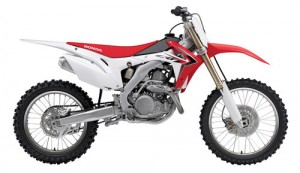 2013 Honda CRF450R Side View[/caption]

Honda has pulled the lid off their new 2013 CRF450R and I gotta say, I'm already drooling with anticipation. The CRF450R isn't an all new bike, but this isn't one of those years where the manufacturer just slaps a different paint job on the motorcycle and calls it a day. There are some significant changes to the 2013 model compared to last year and I'm liking what I'm seeing.

It's no secret I have an affinity for Honda dirt bikes, and in my mind it doesn't get much better than the CRF450R. That being said, no bike is perfect and there's definitely some room for improvement on the current model. After hearing about the changes Honda made, I'm more excited than ever for the new CRF450R.

The key design approach Honda appears to have taken with the bike seems to be centering the mass. Everyone loves an agile bike with plenty of movability in both the front and back, and that's exactly what the CRF450R tends to be going for. Honda says it created the bike with "generation scrub" in mind. I don't know if I like being referred to as a scrub, but I do like their thought process behind improving the bike's maneuverability, especially in the air.

[caption id="attachment_13065" align="alignleft" width="300"]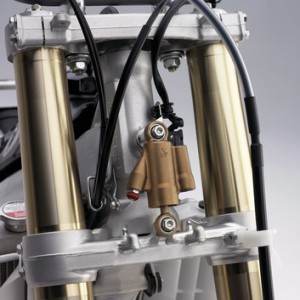 New Air Forks on 2013 Honda CRF450R[/caption]

Speaking of air, one of the things people might notice first about the bike are the new air forks. These are somewhat controversial dirt bike parts that replace the traditional spring forks. More and more models have been moving to the air forks system, like the new 2013 Kawasaki KX450F. It's easy to see why. Honda claims these air forks will be significantly lighter than springs and easier to adjust - you just need a bicycle pump to do so. Air forks aren't exactly new - some bikes tried them in the past with mixed results. But manufacturers say they've solved most of the problems with air forks and they're now way better than the old springs. I guess we'll see when we get on the track.

I know I'll be watching when Andrew Short hops on the new CRF450R for Chaparral Honda. The bike should be ready in time for the Monster Energy Cup this October in Las Vegas. With a bike like this on his side, I think Shorty's got a shot at the cool $1 million prize.

I can't wait to get my hands on this bike and go tooling around the track. Honda plans to release the CRF450R to the public in September, but we'll have a full review for you before then. The company says they're going to try to stay close to the price tag of the 2012 CRF450R, and if that's truly the case I'm all for it.