Honda Announces 2013 Off-Roading Lineup
Chaparral Motorsports
|
June 1, 2012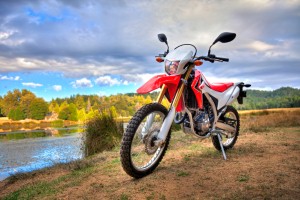 Japanese manufacturer Honda has unveiled its off-roading motorcycles for the 2013 model year, giving dirt bike fans a sneak peek on all the bikes that will be available in the late summer and early fall.

The Honda off-road lineup gets two newcomers this year, with the CRF250L dual-sport and CRF110F joining the family, reports Ultimate Motorcycling. Honda describes the dual-sport as a bike that's just as at home on the street as it is in the dirt, and it is meant for riders who plan on taking on multiple types of terrain. Meanwhile, the CRF110F is replacing the CRF70F as the "beginner" bike in Honda's lineup. The low seat height and moderate power make the model manageable for entry-level riders.

Most will be interested in the updated versions of the CRF450R and CRF250R, however. It's no secret Honda has had plenty of success with these models, with the 250cc bike in particular taking both Supercross Lites crowns this year. While neither bike has undergone a major redesign, they do feature an updated suspension and engine. The 450R has had additional work done, and riders are likely to notice the brand-new aluminum chassis and updated exhaust.