Ducati To Be Highlighted At Dana Point Concours D'Elegance
Chaparral Motorsports
|
June 1, 2012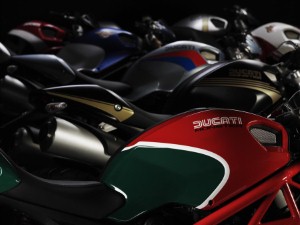 The Dana Point Concours d'Elegance may be well known among automotive enthusiasts, but motorcycle collectors are increasingly getting in on the fun as well. Once a cars-only event, the Concours d'Elegance has allowed motorcycles since 2010 and they've quickly grown to be a major part of the show.

This year, the organizers behind the event have announced they will highlight a specific brand at the show - Ducati. The Italian manufacturer makes high-end motorcycles that have captured the attention of bike lovers all around the world, and now the brand will be on display at the event.

"Much like owning a Shelby or a Harley-Davidson, owning and riding a Ducati is a lifestyle decision," said Jeff Spellens, Dana Point Concours d'Elegance president. "It is fitting to celebrate an Italian manufacturer at our event, who understands the meaning of good taste, class and sophistication."

Rare models expected to be on display at the event include a 1955 Ducati 125 Bialbero Gran Prix and 1966 Ducati Monza 250. Other classic Ducati models will also be shown during the gathering.

The Southern California event will take place June 23-24 at the St. Regis Monarch Beach golf links in Dana Point.