Colin Edwards Primed For Catalunya Return
Chaparral Motorsports
|
June 1, 2012
[caption id="attachment_13047" align="alignright" width="300" caption="Colin Edwards in Qatar."]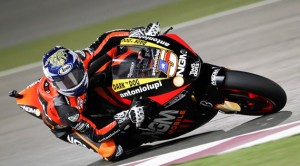 [/caption]

American rider Colin Edwards says he's fit to return during this weekend's Catalan Grand Prix after suffering a broken collarbone during a qualifying event earlier this month, according to Crash.net.

Edwards went down hard before the Portuguese Grand Prix and snapped his collarbone, an injury that required the rider to undergo surgery. The rider missed the Le Mans GP due to the injury, where he was replaced by Chris Vermeulen for the Forward Racing Suter BMW team.

While Edwards hasn't climbed back on the bike just yet, he believes he'll be ready to go for this weekend's race. In order to rehabilitate his injury, Edwards says he's been hitting the pool to test out the area around his neck and shoulder.

"I've been swimming a lot these last few days and it feels good, I have full movement and it doesn't hurt," he told the news outlet. "I would say I'm at about 90% right now. Looking forward to this weekend."

This year, Edwards has been the poster child for the new Claiming Rule Teams (CRTs). Before his injury, Edwards was the top CRT rider in terms of points and will look to reclaim that spot beginning this weekend.