Martin Cardenas And Jason DiSalvo Battle It Out In Miller Thriller
Chaparral Motorsports
|
May 31, 2012
[caption id="attachment_13016" align="alignright" width="300" caption="The last-minute battle between Martin Cardenas and Jason DiSalvo had everyone on their feet - Photo: Brian J. Nelson"]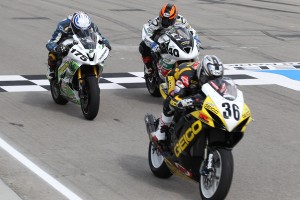 [/caption]

Miller Motorsports Park in Utah was the site of many professional racing series this past weekend, but not all of the competitions delivered thrilling entertainment for those in attendance. For example, the Vance and Hines XR1200 riders actually apologized to fans because their race was so boring, with little passing and big gaps between the top riders. Those competing in Daytona Sportbike needed to offer no such apology, as the last-minute battle between Martin Cardenas and Jason DiSalvo had everyone on their feet.

DiSalvo jumped out to an early lead and led for much of the 16-lap race, but couldn't shake Cardenas completely. The two riders dueled for much of the race, but Cardenas didn't find an opening until the very last lap. As the duo approached a group of riders who weren't on the lead lap, Cardenas took the opportunity to go low on one of the corners and get past DiSalvo. DiSalvo was still quite close to Cardenas going into the final stretch, but ultimately lost out to the Colombian by .1 seconds.

The win was a big one for Cardenas, his fourth in five races thus far in the Daytona season. Cardenas is on top of the point standings and got a big boost to his lead due to the second-place rider, Tommy Hayden, finishing ninth at Miller.