Kenny Noyes Remains Consistent In Spain
Chaparral Motorsports
|
May 31, 2012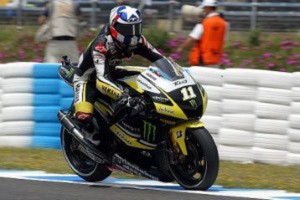 motorsports
fans tend to cheer on riders from their own country, no matter where in the world they're competing. That's why many fans have continued to follow the exploits of American rider Kenny Noyes as he makes a go of it in the Spanish National Moto2 Championship.

Thus far, Noyes has been one of the most consistent riders in the series. In the third race of the Moto2 Championship season, Noyes was able to claim third place, his third-straight podium finish. The victory was enough to move Noyes to second overall in the point standings, just 12 points shy of leader Jordi Torres.

Noyes might have done better if not for struggling with chattering throughout the weekend. Due to Noyes' bike troubles, the rider said he lost some time on the track. By the end, he finished one second behind second-place rider Ramon Ramos, but might have been able to overtake him if his bike had cooperated.

"This was really a tough weekend with problems that we began to have in Navarra," Noyes told the news source. "The team worked hard and made some progress, but on race day I knew I would have to try and ride around the chattering. Coming out of here with a podium after a half hour on the limit really felt almost like a win, and in spite of all our problems, Jordi only took 5.9 seconds off of us."