Jared Mees Signs With Bell For Motorcycle Helmet Sponsorship
Chaparral Motorsports
|
May 31, 2012
[caption id="attachment_13020" align="alignright" width="300"]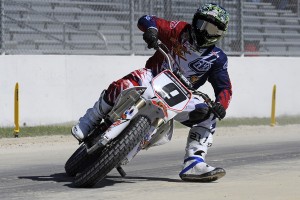 Jared Mees racing in the Daytona Beach AMA Pro Racing GNC Short Track - Photo: Dave Hoenig[/caption]

Flat track racer Jared Mees has announced a new sponsorship deal with Bell, a top manufacturer of motorcycle helmets.

The AMA Expert class competitor has long been one of the top riders in the sport, and now will be heading to the track with a Bell helmet on his head. The company recently announced that Mees has signed on to endorse the brand's products. In the AMA Expert Singles class, he'll wear a [mageProductLink sku="650-2028413" title=""]Bell Moto-9[/mageProductLink] helmet. For the Expert Twins series, Mees will switch to the ultra-light [mageProductLink sku="650-2028473" title=""]Bell Star Carbon[/mageProductLink].

"I've been a big fan of Bell since I was a kid, so when they asked me to join their team, I jumped at the opportunity," said Mees. "I recently had the chance to tour Bell's technology center in Scotts Valley and I was very impressed by how much work they put into helmet performance and safety. I'm looking forward to a great season and am very proud to be running Bell in 2012."

Last year, Mees was the runner-up in the AMA Grand National Championship, and will look to take the title from Jake Johnson as the season gets underway in 2012.