Josh Hayes And Josh Herrin Dominate Miller For Yamaha
Chaparral Motorsports
|
May 30, 2012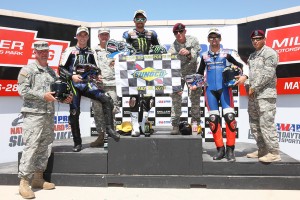 Josh Hayes
dominated at Miller Motorsports Park, opening up a massive lead on his AMA Superbike competitors within the first few laps of the race.

Hayes jumped out to a great start and by the end of the first three laps, there was no doubt who would ultimately win the race. In the end, Hayes ended up with a margin of victory of nearly eight seconds, according to SportRider Magazine.

"Yeah, what an awesome day," Hayes told the news source. "The bike was good, things have been pretty smooth for me for the weekend. We really didn't make too many changes. Weather was changing enough. We figured we better stick with kinda what we know and just try to work on getting good clean laps and all in all it was a pretty smooth run."

With Hayes so far out in front, most of the fans watched the fierce battle for second place between Blake Young and Josh Herrin. Herrin, a teammate of Hayes' on Monster Energy Yamaha, made his move on the first corner of the final lap, getting past Young and putting himself in the lead.

On the next corner, Young made contact with Herrin and nearly sent him off the track, but Herrin remained upright. With Young just slightly out in front, Herrin waited for his opportunity and passed the Suzuki rider, making it a 1-2 finish for team Yamaha.