Eli Tomac Triumphs In Hot Weather
Chaparral Motorsports
|
May 30, 2012
[caption id="attachment_12976" align="alignright" width="300" caption="Eli Tomac raced hard to win both motos and claim the overall victory at Freestone Raceway in Texas - Photo: Frank Hoppen"]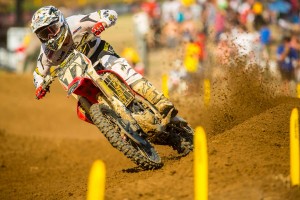 [/caption]

Eli Tomac raced hard to win both motos and claim the overall victory at Freestone Raceway in Texas, where many riders suffered due to the high temperatures.

High heat and humidity were on many racers' minds going into the race, and the Texas sun didn't quit when it was time to start the bikes. Temperatures escalated into the high nineties and continued to rise as the racing got going, but it didn't stop Eli Tomac.

The GEICO Honda rider began the first 250cc moto in fifth place, but quickly battled his way to the front and got the win. He then passed Blake Baggett in the second race in order to finish 1-1. Baggett was second at 2-2, while KTM's Ken Roczen got on the podium with a 3-4 finish.

For Tomac, the win was significant in that he overcame a track where he had suffered heat stroke during his rookie year.

"The last two seasons have been roller-coasters to say the least," said Tomac. "I pretty much ruined my rookie season here [due to the heat], so to come back and get a win is just awesome. I've been doing this for three years and every year you learn the tracks and the bikes more, and I feel like everything is working perfectly now."