Carlos Checa Crashes At Miller, Surrendering Lead Of World Superbike
Chaparral Motorsports
|
May 30, 2012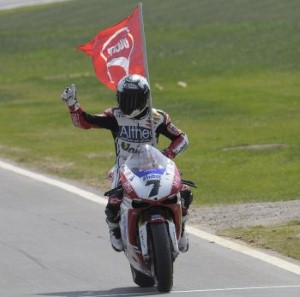 Carlos Checa
continued his excellent World Superbike form in the first moto at Miller Motorsports Park, but crashed in the second race to allow Marco Melandri to win the weekend.

Checa has a long history at Miller, having doubled there on numerous occasions throughout his career. It looked to be more of the same this weekend, as Checa bested Melandri to win the first moto easily. The second moto was stopped due to an accident that spilled fluids on the track. When the race was restarted, Checa got out in front, but crashed on the sixth lap.

That allowed Melandri, who finished second in the first race, to assume control of the lead and take the victory. Since Checa did not finish the second race, he did not get on the overall podium. Instead, Jonathan Rea took second place in both the second moto and overall, while Max Biaggi finished 3-3 for third place on the podium.

Checa's crash had a big effect on the leaderboard, however, allowing Biaggi to take over the lead in the point standings. Melandri, Rea and Tom Sykes are all ahead of Checa in the point standings as well.