Ducati Tests New Bike With Valentino Rossi And Nicky Hayden
Chaparral Motorsports
|
May 25, 2012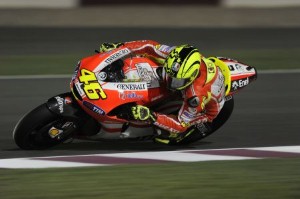 It's no secret that Ducati has struggled with its new Desmosedici, the official MotoGP bike for Valentino Rossi and Nicky Hayden, but recent events have led to more optimism for the Italian brand.

At Sunday's race, Rossi achieved his best-ever finish for Ducati when a late pass on Casey Stoner allowed the former champion to snag second place. Rossi's Desmosedici easily handled the rain-soaked track at Le Mans and the rider looked closer to the "old Rossi" then the rider who has routinely finished off of the podium in recent years.

Ducati continued its quest to build a better bike for Rossi and Hayden during a recent test at Mugello in Italy, reports Cycle News. Despite early rain, Hayden and Rossi were able to get in two full days of testing and completed 76 and 81 laps, respectively. The two riders were testing a new version of the Desmosedici that features an aluminum swingarm, alternative engine configuration and changes to the electronics.

"I'd say it was a very useful test because we were able to gather interesting information on the different areas of the bike for which we had planned a robust test program," Ducati technical director Filippo Preziosi told the news source. "Now we want to go to other tracks, which is exactly what we'll do in Barcelona and Aragon, to test the validity of the solutions we've found, in order to understand if we've effectively taken a small step in the right direction."