Jorge Lorenzo Triumphs In Rain, Valentino Rossi Has Best Finish In Years
Chaparral Motorsports
|
May 23, 2012
[caption id="attachment_12744" align="alignright" width="300" caption="Jorge Lorenzo won the Le Mans Grand Prix and took over the points lead."]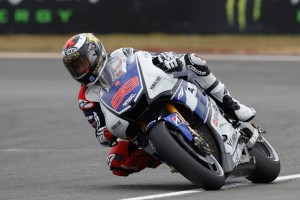 [/caption]

In the first race since Casey Stoner announced his retirement, things turned bad for the Australian rider, as Yamaha's Jorge Lorenzo won the Le Mans Grand Prix and took over the points lead from the retiring rider, according to Cycle News.

Wet conditions at Le Mans may have been a major factor in the race, as Stoner's bike was clearly having trouble in the rainy conditions. After the race, Stoner said his motorcycle tires were taking some time to warm up in the rain.

The rain was a boon for Valentino Rossi, however, who finished second after passing Stoner late. Rossi scored his best finish ever for the Ducati Marlboro team and his best since October 2010 - which was also in the rain.

"I want to race in places where it rains a lot, especially," Rossi joked after finishing second for the first time since the Portuguese Grand Prix in Estoril on Halloween 2010. "No, in this condition I know have a special chance to try for the podium, so it's very important I try to be quiet and ride at the maximum."

With all the attention paid to Stoner and Rossi, Lorenzo's win was comparably quiet. The Yamaha rider jumped out to an early lead and never looked back. His win, combined with Stoner's third place finish, meant the Yamaha rider is now the points leader.