Zero Motorcycles Offers To Pay For First 25,000 Miles Of Electricity
Chaparral Motorsports
|
May 18, 2012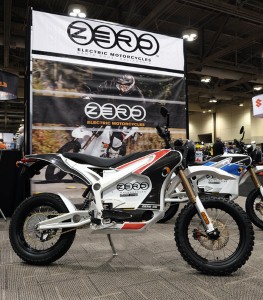 While electric motorcycles can help drivers avoid the gas station, these vehicles still draw electric energy from the owner's house, which costs money. Electric bike manufacturer Zero Motorcycles recently announced it will pay for the first 25,000 miles of electricity a rider uses on any new Zero motorcycle purchased this year.

This Saturday, Zero will be holding its National Demo Day throughout the country, and it appears the company wants to attract buyers with the free electricity promotion. The company has already calculated the cost of the electricity according to average energy prices, and it works out to about $200, which Zero is offering in the form of a Visa gift card.

"With rising gas prices and the summer riding season just around the corner, we want riders to enjoy an exceptionally fun and carefree summer of riding on a new Zero," said John Lloyd, vice president of global sales for the company. "The fact that Zero Motorcycles can offer to pay for the energy for the first 25,000 miles of riding helps to highlight the incredible efficiency of our entire lineup. We invite interested riders to schedule a demo ride at this weekend's National Demo Day to both experience the ride and learn more about Zero Motorcycles."

Two Wheel Mania is owned and maintained by Chaparral Motorsports. With over 300,000 gear, motorcycle tires and clothing online Chaparral is known as one of the largest motosports shops in the world. Make sure to visit Chaparral-Racing.com for the latest deals on gear and accessories for your motorcycle.