Casey Stoner Announces Surprising Retirement
Chaparral Motorsports
|
May 18, 2012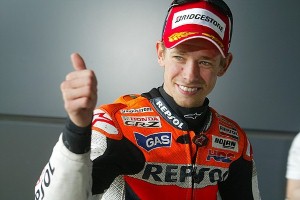 Defending MotoGP champion Casey Stoner has shockingly announced he will retire at the end of this season, citing a lack of passion for racing.

"After a long time thinking, a lot of time talking with my family and my wife, this has been coming for a couple of years now, but at the end of this 2012 season I will be not racing in the 2013 championship," Stoner told gathered reporters. "I will be finishing my career at the end of this season in MotoGP, and go forward in different things in my life. After so many years of doing this sport which I love, and which myself and my family made so many sacrifices for, after so many years of trying to get to where we have gotten to at this point, this sport has changed a lot and it has changed to the point where I am not enjoying it. I don't have the passion for it and so at this time it's better if I retire now."

Stoner did not elaborate on what exactly has disappointed him with regards to MotoGP. It likely hasn't been his performance - the Australian racer is currently on top of the standings, and won the championship last year in dominant fashion.

While the move is surprising for someone so young - Stoner is just 26 - the news of his retirement isn't completely out of the blue. The rider previously stated he would not continue riding into his 30s, and there was some talk Stoner might hang up his motorcycle boots when he became a father for the first time in February.