New T-shirt To Help Support ISDE Squad
Chaparral Motorsports
|
May 17, 2012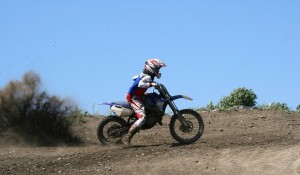 There's all sorts of motorcycle apparel available for fans to purchase, but few directly benefit the world of motorsports. The American Motorcyclist Association (AMA) recently announced it will be selling a new shirt, the proceeds of which will go toward the American team competing at the 2012 International Six Days Enduro (ISDE) in Saxony, Germany.

The limited edition shirt features red, white and blue graphics with a picture of a rider competing in the ISDE. Team manager Antti Kallonen shed some light on why the team was looking for donations ahead of the planned championship run.

"Funding and planning are going well, and we have a number of exciting prospects for the World and Junior World Trophy Teams this year," said Kallonen. "From the club teams to the riders racing for the world title, we intend to field a strong, competitive effort across the board in 2012. However, the ISDE is a major logistical effort, and it's very expensive on both a rider and team level. We encourage all fans of off-road to purchase a fund-raising shirt for 2012 and back our run at a world title."

Last year's ISDE team finished third, with team captain Kurt Caselli leading the way for the USA. Finland ultimately won the championship.