AMA Pro Flat Track Announces Sponsorship, TV Deals
Chaparral Motorsports
|
May 17, 2012
[caption id="attachment_12590" align="alignright" width="300" caption="2011 AMA Pro Racing Grand National Springfield TT - Photo: Dave Hoenig"]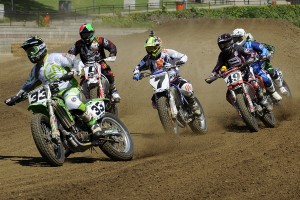 [/caption]

AMA Pro Flat Track has announced a new partnership with Lucas Oil and MAVTV for sponsorship and TV broadcasting rights, respectively, for the upcoming 2012 season.

MAVTV will broadcast ten Pro Flat Track events throughout the year, beginning with the May 26 race in Springfield, Illinois. Several of these events have also been scheduled to be shown on NBC Sports during the season. NBC will be airing the events on weekends, while MAVTV will offer a replay of the race during the week.

In addition to the new TV deal, Lucas Oil has signed on as a primary sponsor of the series. The company will have a major presence at all AMA Pro Flat Track events, with access to signage, banners, vendor space and PA announcements. MAVTV will also be a sponsorship partner.

"We are very proud of our new partnership with Lucas Oil and MAVTV," said Dan Johnsen, director of AMA Pro Flat Track. "Lucas Oil is one of the most respected names in the industry and we are excited to begin working with them. MAVTV is the perfect platform for showcasing the extremely competitive and exciting racing found at every AMA Pro Flat Track event and we look forward to thrilling audiences across America."