BMW Riders Win First Race, Then Crash Into Each Other In Second
Chaparral Motorsports
|
May 14, 2012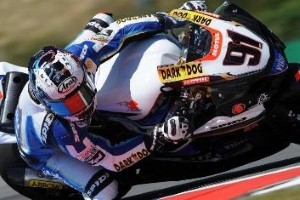 It was an up-and-down day for BMW at the World Superbike races in Donington Park, as the manufacturer got its first-ever win followed by a catastrophic loss.

In the first race, BMW was clearly the manufacturer to beat. Marco Melandri and Leon Haslem worked well together and ended up finishing in first and second respectively, reports Cycle News. That gave BMW its first ever race victory in World Superbike, and with both Melandri and Haslem on top there was plenty of reason for the team to celebrate.

That is, until the second race undid much of that momentum. Tom Sykes of Kawasaki led for much of the race, but Melandri and Haslem caught up with the rider toward the end. It appeared Haslem had the race won with Melandri in second, which would have been a perfect day for BMW.

Yet teammates don't always play nice - Melandri attempted to pass Haslem, causing the rider to shoot out wide into the path of Honda rider Jonathan Rea. Rea hit Haslem and knocked him into Melandri, causing both BMWs to fall just before the finish line. Rea stayed upright and finished half-a-second ahead of Max Biaggi, with Sykes taking third place.