John Hopkins To Miss Next World Superbike Race With Broken Foot
Chaparral Motorsports
|
May 11, 2012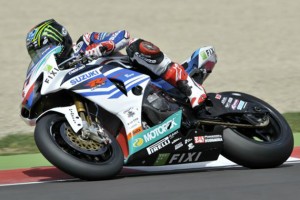 Some motorsports competitors simply have poor luck, and it's hard to argue John Hopkins isn't among them. The Crescent Suzuki rider is a popular racer in World Superbike, but this year especially seems to be cursed for the fan favorite.

Hopkins' dedication to racing can't be questioned. When the rider's nagging finger injury flared up before the season began, he decided to amputate part of his finger to get rid of the problem rather than risk a surgery that could possibly cause him to miss racing time. That decision was made essentially moot when the rider crashed during a practice lap and broke his hand, forcing him to miss the opener anyways.

At the latest race in Monza, wet weather caused officials to cancel the competition - but not before Hopkins' went down to a crash during a qualifying round. While several riders hit the pavement in the wet conditions, Hopkins was the only one who came away with an injury - a broken foot that will cause him to miss yet another race, according to Crash.net.

Crescent Suzuki plans to announce a temporary replacement for Hopkins in the near future. In the meantime, it is hoped that Hopkins will be back on his feet in time for the U.S. round of World Superbike at Miller Motorsports Park.